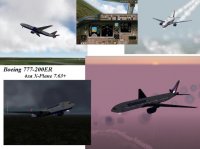 - Screenshot 2
- Screenshot 3
On June, 12th, 1994 the remarkable plane Boeing 777 made the first flight. In honour of the 15 anniversary of this event I suggest you to download the Boeing 777-200ER in Transaero airlines livery (EI-UNX) for X-Plane 7.63+.
In archive:
1) Model with real 2D cabin
2) Day and night livery
3) Cabin side views
4) Sounds of engines, gear, flaps, etc.
5) Readme
6) B777 AOM
7) Screenshots
PLEASANT FLIGHTS!