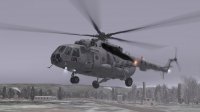 - Screenshot 2
- Screenshot 3
Mi-8MTV2 - General Design and Mission Overview

The Mi-8MTV2 is designed to enhance the mobility of ground forces and provide fire support on the battlefield.

The primary missions performed by the helicopter include:

Tactical air assault
Air mobility of ground forces
Transport of internal and external cargo
Destruction of ground targets on the forward edge of the battle area (FEBA) and within tactical depth, such as: infantry, lightly armored vehicles, anti-tank positions, artillery, radar and reconnaissance positions, anti-aircraft defense positions, forward command posts, helicopters and other aircraft positioned on the ground
Airborne reconnaissance
Airborne mine placement
Search and rescue
Medical evacuation
The internal and external payload of the helicopter can be configured as required to perform the above missions, including fitting of armament, additional fuel tanks, internal and externally slung cargo, medical stretchers, etc.

The helicopter can be operated in daytime or nighttime and under visual or instrument meteorological conditions.

The crew consists of three members: the Pilot-Commander, Pilot-Navigator, and Flight Engineer.